The event was held between the President / Director and tenure-track faculty members on Tuesday, August 3rd, 2021, with the participation of President Masaaki Oka, five directors, and eight tenure-track faculty members.
At
the beginning, President Oka expressed his expectations for young faculty
members.
After that, two tenure-track faculty members who have been newly appointed to Yamaguchi University after the last event (August 6th, 2020) introduced themselves and their research content using PPT.
Assistant Professor Rina Hasuike, Department of Construction and Environmental Engineering, Graduate School of Sciences and Technology for Innovation, is a second-term faculty member of the HIRAKU-Global program. She is studying "corrosion evaluation," which causes deterioration of steel bridges and leads to infrastructure destruction.
At event, the effects of changing the antifreeze agent, which is one of the causes of corrosion, inspection by robots, corrosion evaluation by image data, research using stainless steel that is resistant to corrosion for the girder end, etc. were introduced.
In response, there was an introduction questions of the project to support AI research at the Diversity Office in Yamaguchi University, and the question of the response to infrastructure durability from the Ministry of Land, Infrastructure, Transport and Tourism$B!G(Bs.
In the subsequent free discussion, the faculty members, who exhibited the poster at the on-campus research exchange event "Introducing my research" held last year, reported on the situation of the venue and the reactions of the visitors.
On the other hand, there was also a proposal that a place for exchange might be necessary for companies outside the university.
In addition, There was an opinion that manpower was insufficient in daily research activities. In response to this opinion, it was suggested that getting acquainted with faculty members who are doing similar research would lead to a cooperative relationship.
In addition to this, there were topics such as the importance of the classes in order for students to come to the laboratory.
And then, the event ended with a great success.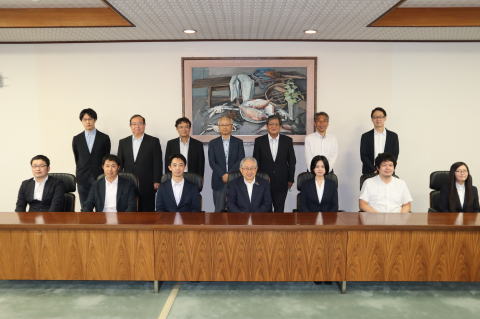 President Oka (4th from the left in the front row), Assistant Professor Hasuike (3rd from the right in the front row).

State of the The social gathering




$B!!!!!!!!!!!!!!!!!!!!!!!!!!!!!!!!!!!!!!!!!!!!!!!!!!!!!!!!!!!!!!!!!!!!!!!!(B

$B!!!!!!!!!!!!!!!!!!!!(B